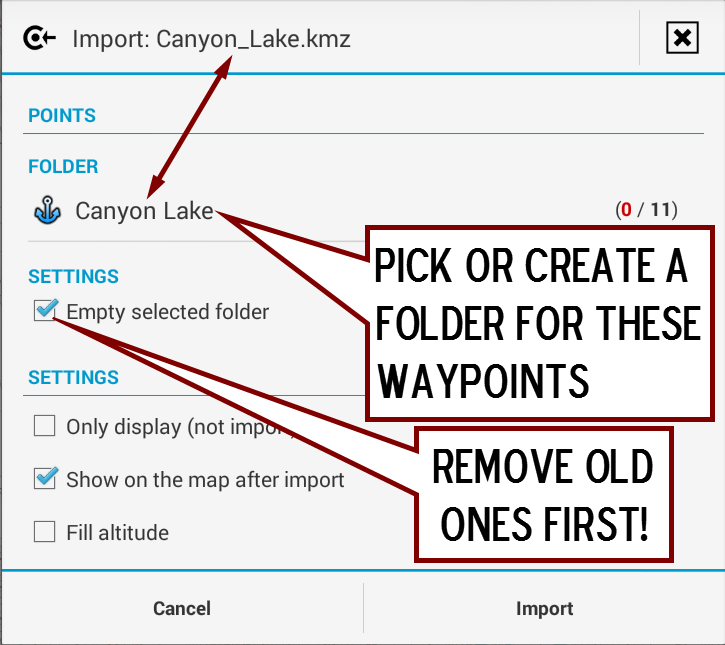 Individual Waypoint Sets (back to main page)
Each link does a "one-click" import of a waypoint set into Locus.
Be sure to select the points folder (or create a new one) that matches the name of the set you are importing! If you forget, your points will end up in the wrong folder.
Make sure "Empty selected folder" is enabled or you will have duplicates. If you forget, re-import and this time enable "empty folder".
Apache Lake (4/6/14)
Bartlett Lake (3/25/14)
Bulldog Wash (3/25/14)
Canyon Lake (4/6/14)
Cave Creek Park (3/25/14)
Central Arizona Project (8/1/15)
Estrella Mountain Park (3/25/14)
Fountain Hills LZ Locations from Josh (3/25/14)
Four Peaks & Sycamore (3/25/14)
Gila Bend Mtns & Painted Rock (4/26/14)
Helipads & LZs (9/15/14)
Horseshoe Lake (4/6/14)
Interstate 8 Mileposts (6/28/15)
Lake Pleasant (4/6/14)
Lower Salt River (3/25/14)
McDowell Mountain Park (3/25/14)
Needle Rock (3/25/14)
Saguaro Lake (3/25/14)
San Tan Mountain Park (3/25/14)
Seven Springs (4/6/14)
Spur Cross Area (7/6/15)
SR 238 Mileposts (6/28/15)
SR 85 Mileposts (10/4/14)
Superstition Wilderness (4/6/14)
Usery Mountain Park (3/25/14)
Vekol Valley Landmarks (10/5/14)
West County I-10 & I-8 (3/25/14)
White Tanks Park (3/25/14)